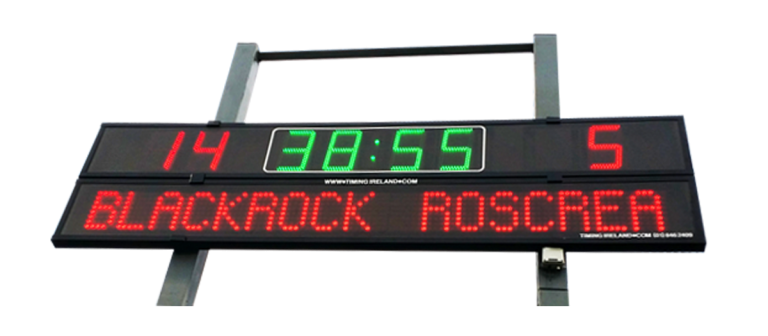 Our Hockey Scoreboards include dual scoring digits for home & away, as well as a game clock. The game clock can count up or down for each period, and sounds a horn when time has been reached. Type in team names available.
Would you like a Free Quote?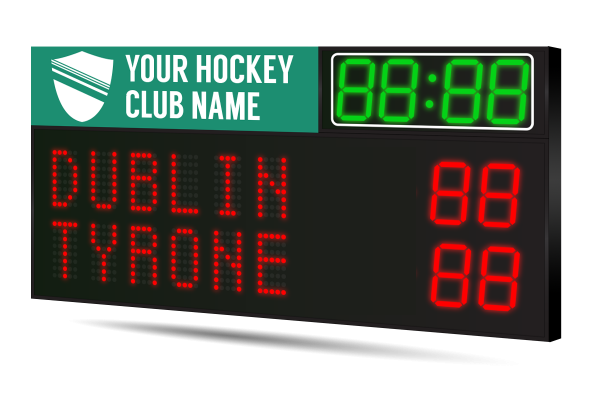 LED HOCKEY SCOREBOARDS
Our hockey scoreboards include dual scoring digits (0 – 99) for both home & away, in red LED's. Each scoreboard can come with a LED game clock. The game clock can count up or down, or display time of day in green LED's. The built-in horn in the scoreboard can sound automatically when game time is reached, or manually on the controller. The wireless handset controller communicates to the scoreboard via radio with a transmission range of around 350m. The easy to operate controller is used to control the scores, clock and team names.
We offer a permanent nameplate with the home teams name & guest or visitors. Or you can upgrade to type-in team names. Ranging from 4 – 15 characters per team.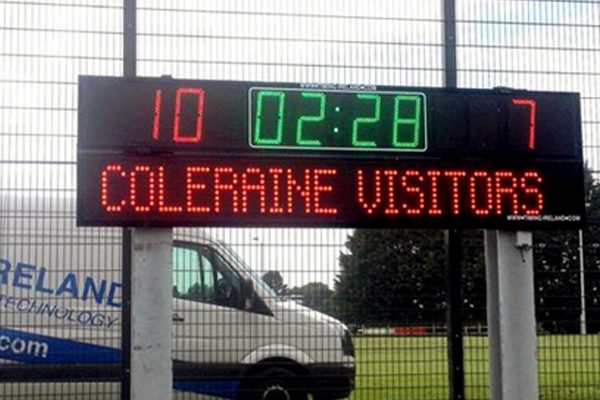 SCROLLING MESSAGE SCOREBOARD
Out latest hockey scoreboard is the TG-35 Scoreboard with Message Board. This model has the same features as our other models, such as dual scoring digits & LED game clock. However the type-in team names module can also be used as a message board.
Custom messages can be pre-programmed on the controller, and with the press of a button, flash during game (such as yellow card, or goal!).
The message can also be used to display scrolling messages, such as sponsor advertisements, upcoming fixtures, club lotto results and more!

LED SCORING DIGITS
Dual LED Digits display goals for both home & away. Maximum score of 99 per team. Bright red LED's.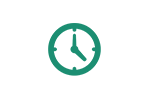 LED GAME CLOCK
Game clock displays period duration. Clock can count up or down. Press of a button moves to next period, resetting clock.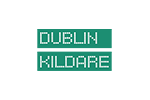 TEAM NAMES
Permanent nameplate with home team name & guest, or visitors, etc. Type-in team name option also available.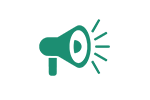 BUILT-IN HORN
Each scoreboard includes built in loud horn. When period time is reached, horn automatically sounds. Can also be manually activated.

WIRELESS CONTROL
Wireless radio controller operates scoreboard. Easy to operate with simple labelled buttons. Transmission range of up to 350 m.

GUARANTEE INCL.
Each of our scoreboards includes a 2-year parts & labour guarantee. We offer repairs for the entire lifespan of the scoreboard.

SCOREBOARD INSTALLATION
Every scoreboard we supply can be fitted by us at request. However, if you prefer, the installation can be done locally; as each model comes with mounting brackets and only requires standard mains power.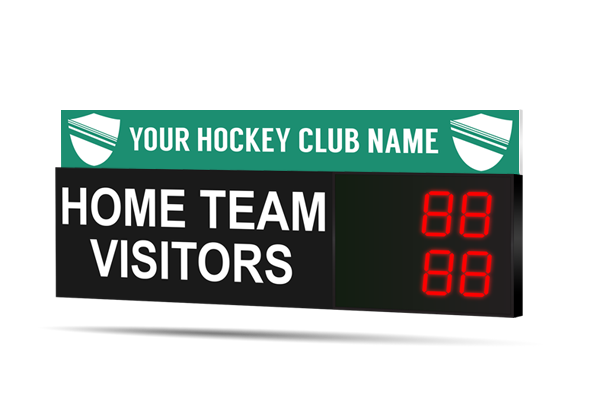 Hockey Scoreboard (RS-1)
FEATURES
Digit height: 35cm
Dimensions height: 2500 mm x 1600 mm (WxH)
Features:
Dual Scoring Digits (0 – 99).
Permanent Nameplate with White Labels.
Signage Included for Sponsor or Club Info.
Wireless Radio Controller, max. transmission range 350m.
2 Years Parts & Labour Guarantee Included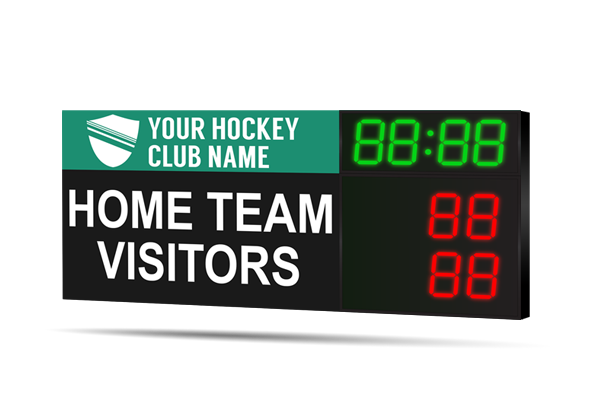 Hockey Scoreboard (RS-2)
FEATURES
Digit height: 35cm
Dimensions height: 2500 mm x 1600 mm (WxH)
Features:
Dual Scoring Digits (0 – 99).
LED Game Clock. Count Up, Down or Show Time of Day. Includes Horn.
Permanent Nameplate with White Labels.
Signage Included for Sponsor or Club Info.
Wireless Radio Controller, max. transmission range 350m.
2 Years Parts & Labour Guarantee Included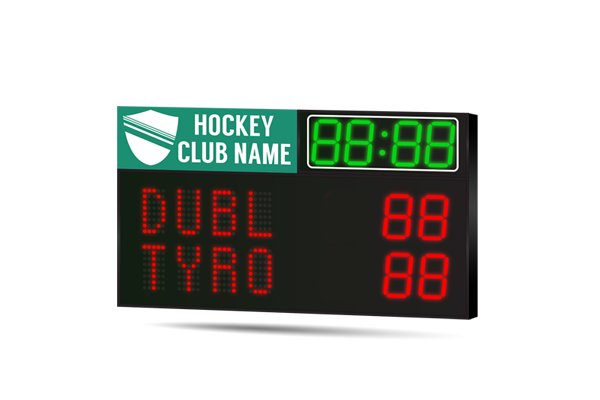 Hockey Scoreboard (RG-4)
FEATURES
Digit height: 35cm
Dimensions height: 2700 mm x 1600 mm (WxH)
Features:
Dual Scoring Digits (0 – 99).
LED Game Clock (optional), Count Up, Down or Show Time of Day. Includes Horn.
Type-in Team Names (max. 4 characters per team).
Signage Included for Sponsor or Club Info.
Wireless Radio Controller, max. transmission range 350m.
2 Years Parts & Labour Guarantee Included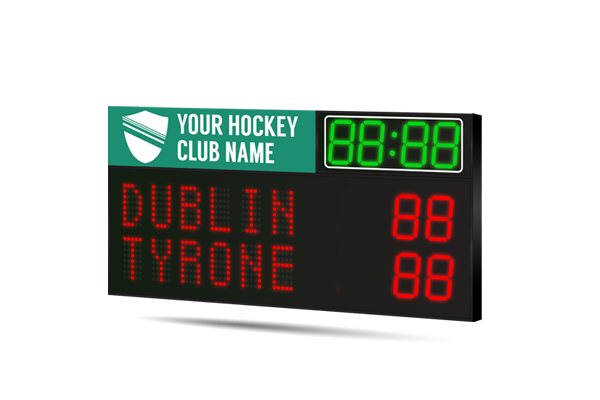 Hockey Scoreboard (RG-6)
FEATURES
Digit height: 35cm
Dimensions height: 3200 mm x 1600 mm (WxH)
Features:
Dual Scoring Digits (0 – 99).
LED Game Clock (optional), Count Up, Down or Show Time of Day. Includes Horn.
Type-in Team Names (max. 6 characters per team).
Signage Included for Sponsor or Club Info.
Wireless Radio Controller, max. transmission range 350m.
2 Years Parts & Labour Guarantee Included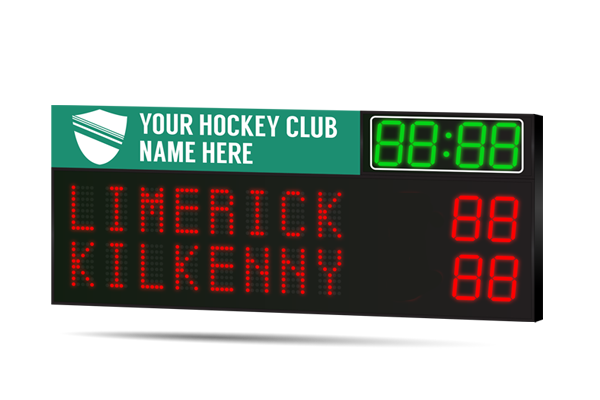 Hockey Scoreboard (RG-8)
FEATURES
Digit height: 35cm
Dimensions height: 3700 mm x 1600 mm (WxH)
Features:
Dual Scoring Digits (0 – 99).
LED Game Clock (optional), Count Up, Down or Show Time of Day. Includes Horn.
Type-in Team Names (max. 8 characters per team).
Signage Included for Sponsor or Club Info.
Wireless Radio Controller, max. transmission range 350m.
2 Years Parts & Labour Guarantee Included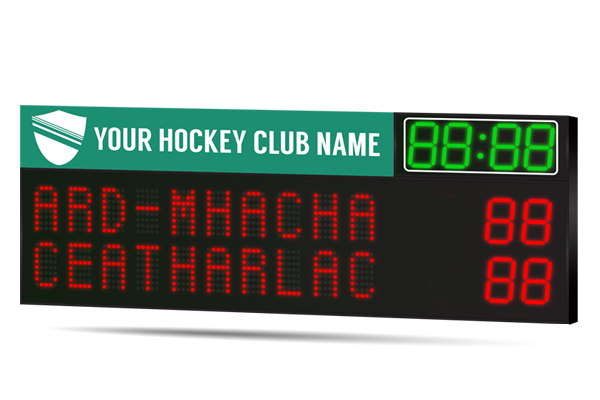 Hockey Scoreboard (RG-10)
FEATURES
Digit height: 35cm
Dimensions height: 4200 mm x 1600 mm (WxH)
Features:
Dual Scoring Digits (0 – 99).
LED Game Clock (optional), Count Up, Down or Show Time of Day. Includes Horn.
Type-in Team Names (max. 10 characters per team).
Signage Included for Sponsor or Club Info.
Wireless Radio Controller, max. transmission range 350m.
2 Years Parts & Labour Guarantee Included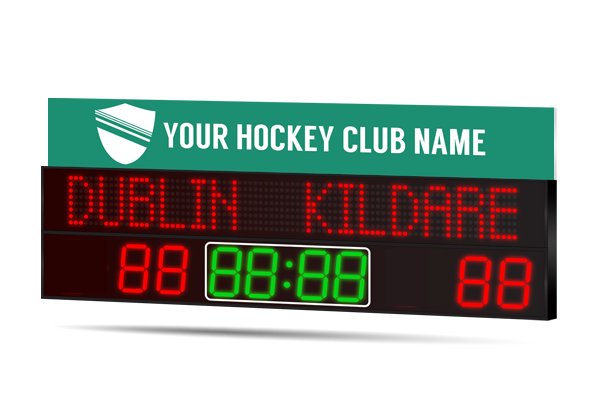 Hockey Scoreboard (TG-35)
FEATURES
Digit height: 35cm
Dimensions height: 3500 mm x 1600 mm (WxH)
Features:
Dual Scoring Digits (0 – 99).
LED Game Clock (optional), Count Up, Down or Show Time of Day. Includes Horn.
Type-in Team Names (max. 8 – 9 characters per team).
Display Custom Messages & Advertisements
Signage Included for Sponsor or Club Info.
Wireless Radio Controller, max. transmission range 350m.
2 Years Parts & Labour Guarantee Included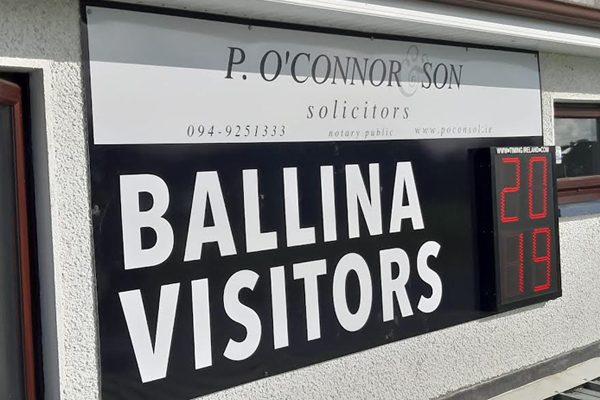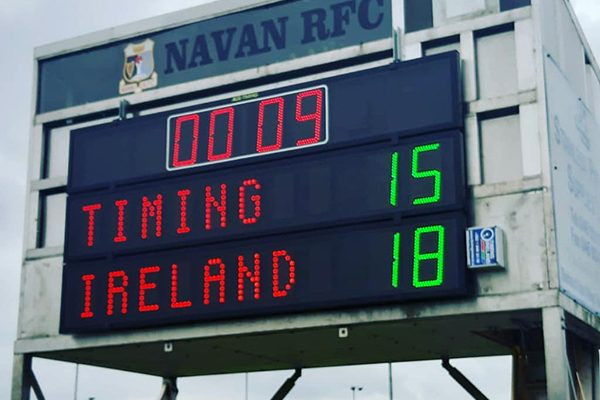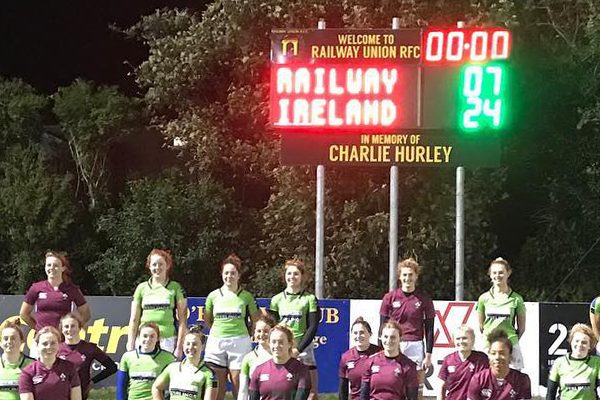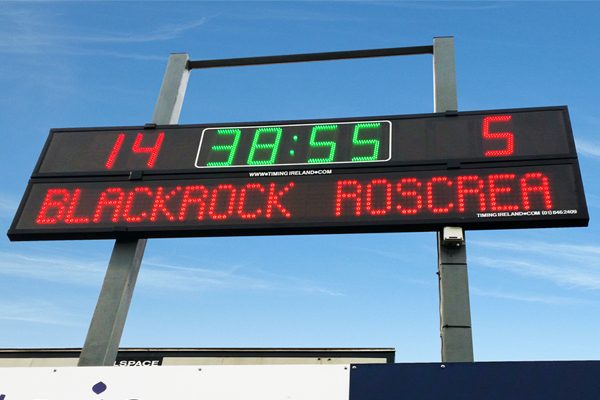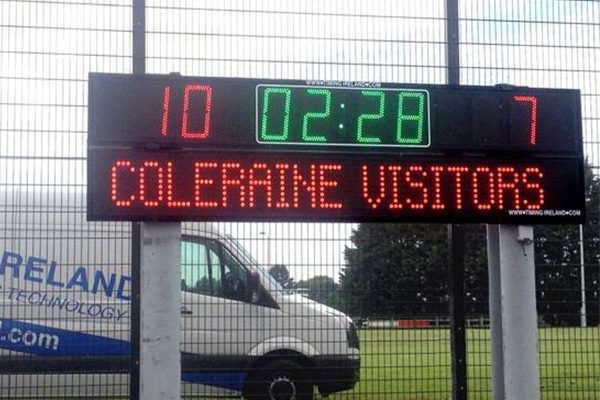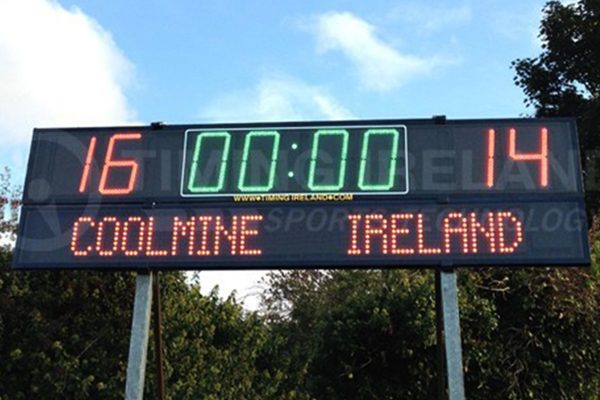 Fill in this form for a Free Quote